5 Top Successful Brands In Nigeria In 2022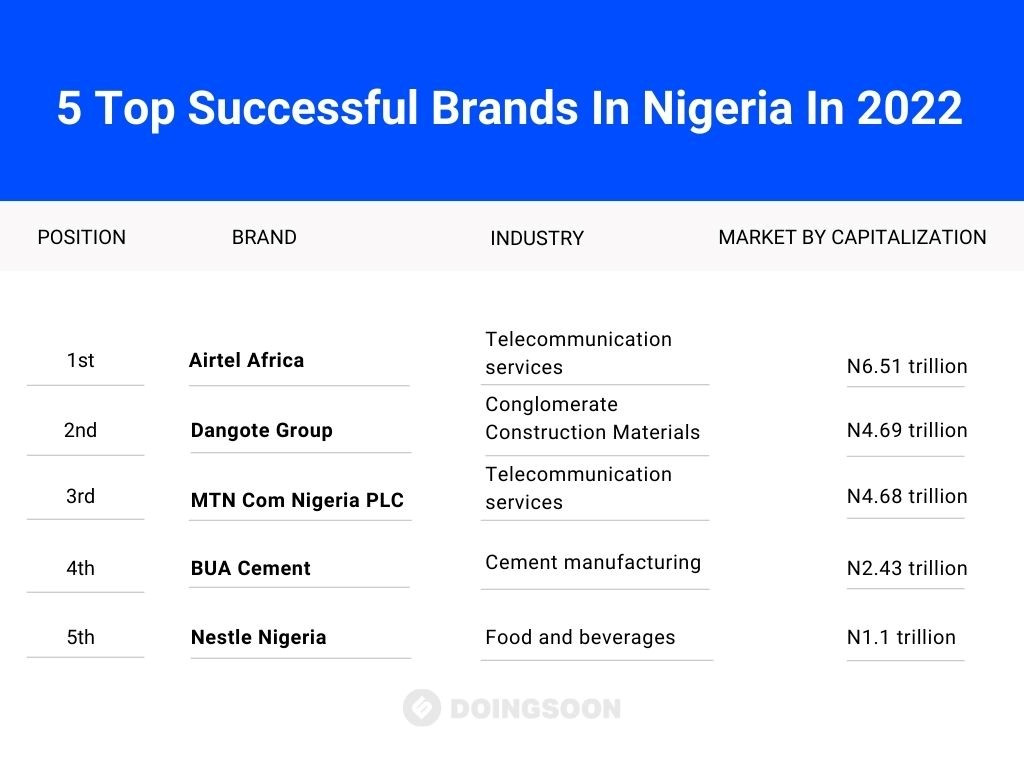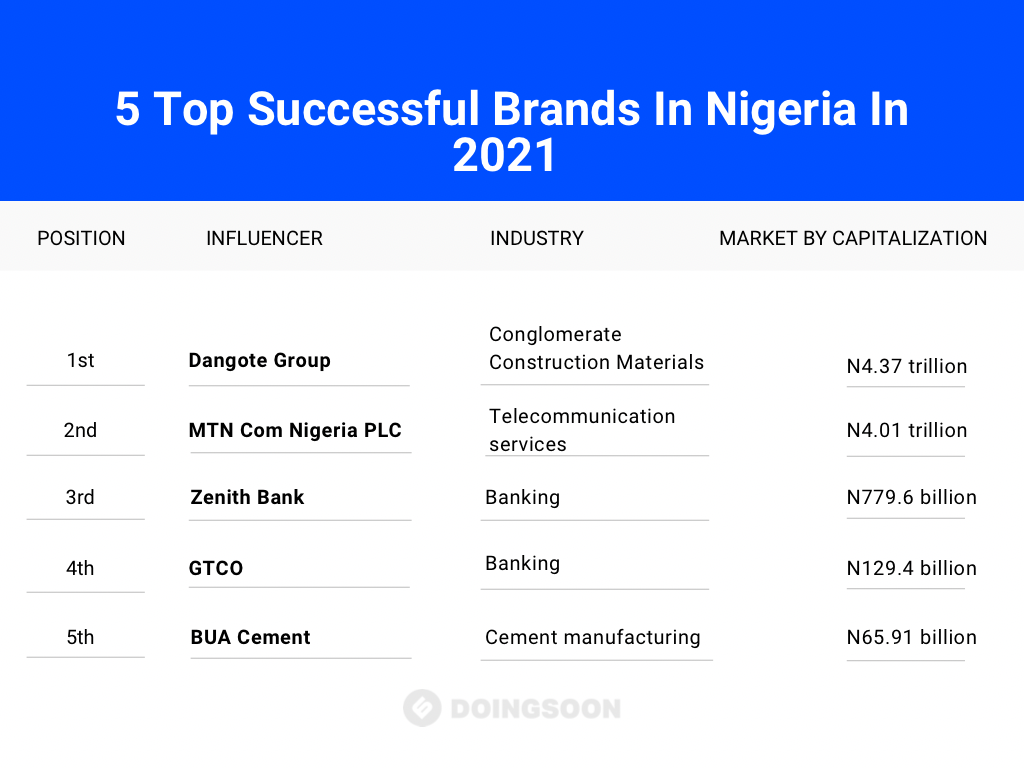 Did you know that Nigeria has the most successful brands in Africa?
We are going to look at the top 5 most successful brands in Nigeria in 2022. These brands are based on companies with the largest market capitalization. We are going to check out how long these companies have been doing business, their revenue, growth and the success they have attained.
Undoubtedly, Nigerian brands have had a major milestone in shaping up the business community. With the rise of technology and social media, it's important for brands to be aware of the trends in their industry. It's also important to know what makes a successful brand, so that you can learn from them and emulate them if you want to succeed in your own business. Let's take a look at the five brands that have made it big in Nigeria for 2022 with their respective stats, insights and information.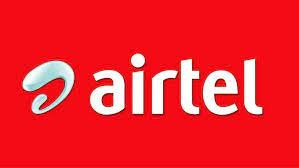 Airtel Africa (Two spots up)
The telecommunications giant is the most valuable brand in Nigeria. Airtel Africa, based on data in NGX with a market capitalization of N6.51 trillion. Airtel was ranked the third most invested company in Nigeria six months ago but has recorded impressive growth in its share price in the first half of the year. Airtel's market value increased by 81.38 percent during the six-month period and posted a profit of N2.92 trillion from N3.59 trillion recorded in December 2021.
Airtel Africa is a provider of telecommunications and mobile money services in 14 African countries, mainly in East Africa and Central and West Africa. Airtel Africa offers its customers a comprehensive suite of telecommunications solutions, including national and international mobile voice and data services, as well as mobile money services.
It has been a year of strong growth, margin expansion and cash flow for Airtel; from delivering results to instilling sustainability.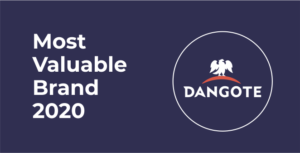 2. Dangote Group (One spot down)
Dangote Group is Nigeria's Second most valuable brand and Leading Conglomerate in 2020. The market value of its outstanding shares is N4.69 trillion. Dangote Cement has lost the top spot to Airtel Africa as the most invested company on the list in a single stock despite the positive movement in its share price.
The cement manufacturing giant increased its market capitalization from N4.38 trillion recorded in December 2021 to N4.69 trillion in June 2022, representing a value of N306.73 billion (+7%).
The growth of the Dangote Group industries such as Food, Mining, Real Estate and Pharmaceuticals has been remarkable over the years. Founded in 1977 as a trading company, the group has gradually grown into a leading manufacturing conglomerate in Africa. Its primary business objective is to provide local, value-added products and services that meet the 'basic needs' of the population through the construction and operation of large-scale manufacturing facilities in Nigeria and Africa. The company has been very successful in achieving this goal and has started a large expansion to several other countries in the African climate.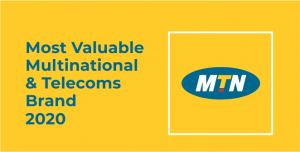 3. MTN Communication Nigeria PLC (One spot down)
The most valuable multinational and telecom brand ranked third with 83 million subscribers, accounting for 40.9% of all connected phone lines in Nigeria, according to the latest NCC statistics. MTN Nigeria had a market capitalization of N4.68 trillion at the end of the first half of the year, dropping from second place to third place at the end of last year. This is despite a 16.75% increase in market capitalization from N4.01 trillion.
Market-oriented strategic planning, pricing and constant promotion intensity are what distinguish MTN and dominate the market from other telecommunications companies, as it currently has a market share of 39.61 percent. 
MTN Global operates in 20 countries around the world and a third of the company's revenue comes from Nigeria. With this, MTN is number one in the multinational brand and telecommunications category.

4. BUA Cement (One spot up)
BUA Cement Plc, Nigeria's second largest cement producer, also maintained its position in fourth place with a market valuation of N2.43 trillion in the period under review despite gaining 7.23% (+164.24) in the first six months of the year billion N) from the N2.27 trillion recorded at the beginning of the year.
The company BUA Cement is engaged in the production and sale of cement for the production of blocks, plastering and concrete work in the construction industry. As one of the leading cement producers in Nigeria and one of the largest manufacturers of concrete products in the country, it is committed to excellence in all areas of its operations.

5. Nestle Nigeria (remained flat)
Nestle Nigeria ranks fifth in the list of the most invested companies in the Nigerian Stock Exchange with a position of N1.11 trillion at the beginning of the year. Meanwhile, the company's valuation dropped by 10.1% (N124.1 billion) in the first six months of the year from N1.14 trillion recorded on December 31, 2021.
Nestlé Nigeria is one of the largest food companies in Africa. For more than 60 years, the company has been delighting customers in Nigeria by consistently delivering high quality nutritious food. With a workforce of over 2,200 direct employees, 3 manufacturing sites, 7 branches and a head office in Lagos, the company produces and markets several brands including MAGGI®, MILO®, GOLDEN MORN®, NESCAFÉ® and Nestlé PURE LIFE. ®.
 Nestlé is a trusted brand that has been delighting customers in Nigeria by consistently delivering high quality, nutritious food.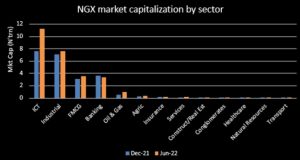 Top companies by market capitalization
The ICT sector has a value of N11.21 trillion by June 2022, which represents 40.1% of the entire stock market. The sector grew from N7.62 trillion to N3.59 trillion in the first six months of the year to the end of December 203.
The manufacturing industry sector, including Dangote Cement, BUA Cement and Lafarge Africa, was second with a value of N7.61 trillion, earning N512.88 billion in the first half of the year. The consumer goods sector ranked third with a value of N3.55 trillion, earning N407.16 billion during the period under review.
 On the other hand, the banking sector ranked fourth with a loss of N3.38 billion due to a total loss of N215.52 billion in the first half of the year.
The Nigerian market is rich in potential for new and innovative businesses. Different brand sectors in Nigeria have been examined and the results have shown that there are many opportunities for growth and expansion. This is due to the fact that the Nigerian consumer is becoming more aware of brand values and what they stand for, which means that brands need to be able to offer a distinct value proposition that cannot be replicated by any other brand.